TECHNICAL SPECIFICATIONS

Edge Guide Power:

+15VDC (± 10%)

Pneumatic Linear Cylinder:

10 - 4,000 mm Stroke
25 mm Piston Dia.
PPV: Pneumatic

cushioning adjustable

at both ends
Heavy-duty guide
positive-locking (slot)

drive double-acting op

mode IP65 Class

Framework:

6061 x 19.05mm

Aluminum

Web Auto Track:

Yes

Web Break Sensor:

Sensing Range:
Supply voltage:
Current consumption:
Output:
Emitting element:


0.1 to 2 m Sensing

Range
10 to 30 V DC RPP

10 % or less
55 mA or less
NPN/PNP
Infrared LED


Air:

2 - 8 bar working

pressure

Ambient Temperature:

40 to 160° F

(4 to 70° C)

Machine Process Speed:

10,000 fpm

(3,048 m/min)

Dimensions:

Custom Made to Process

Weight:

Based on overall Project

Specifications are subject to change without notice.
Equipment Automation Control:
The Model 4000 AutoTrack® Technology is an advanced automatic tracking system designed so our customer can adapt edge mounted quality assurance, control and analytical monitors and/or components to facilitate complete automation. The Model 4000 AutoTrack® Technology incorporates high tech electronic edge sensors, controls and rodless cylinders which provides the ability to automate any technology to advance/retard into inspection mode eliminating operational intervention and ensuring the quality control components are "ONLINE" 24 hours a day or when needed. This system frees up operational staff to perform their duties relative to production without the need to "REMEMBER" to place sensitive monitoring systems back online upon web threading. The Model 4000 AutoTrack® Technology can be applied to all equipment made by Splice Detector Technologies and any competitive or non-competitive inspection, sensor or process system supplier.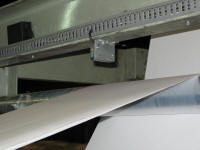 Monitor All Materials:
The sophisticated electronic edge tracking sensors will monitor any material substrate from clear plastics to opaque papers. The precision guides which house the electronic tracking sensors are designed such that they will act as web stabilization arms where product material may have baggy edges or extreme web flutter thus eliminating the possibility of any false signal from being generated. Operation of the unit is completely automated and requires low voltage as its primary power source thus reducing energy requirements and making the overall process very efficient.

Automatically Adjust To Changes:
The sensing arm will automatically adjust to deckle changes and upon "edge finding" will monitor and track the web throughout the process to ensure the Splice Detection equipment is always within specification relative to inspection location. Each sensing head is self-compensating and self-aligning allowing the detector to automatically adjust to changes in the type or caliper of web material.
Precision Rodless Cylinder

Environmentally Sound Enclosure

Precision Machined Edge Guides

Custom Designed for a Variety of Web Widths

Integrated Control Enclosure

Smooth Low Pressure Air Controls

Precise Electronic Web Edge Sensing Technology

State of the Art

Web Break Sensor
AutoTrack™ Control Technology

Applied to our Model 1088 Sentinel

and interfaced with our

Model 1122 Reject Gate Control Technology

AutoTrack™

Applied to our Model 1088 Sentinel Splice Detector Technology
Use with any edge mounting inspection system:
Our Model 4000 AutoTrack® Technology can be used with any edge mount inspection device whether it is one of ours, a competitor or something entirely different. Thus, in cases where competitive sensors are applied, the Model 4000 AutoTrack® Technology can be implemented to ensure proper sensor position is maintained on or off line. Our state of the art web break sensor positioned center of web is interconnected such that upon web breaks or deckle changes the unit will automatically retract offline to facilitate material threading procedures. Upon completion of threading, the Model 4000 AutoTrack® Technology will move the inspection sensor into correct inspection placement thus providing 24/7 performance while eliminated human error, especially upon deckle changes.

Call SDT:
Call us today to discuss your web inspection applications and to learn more about the industry's most complete line of web inspection related products.