TECHNICAL SPECIFICATIONS

Defects Types Detected:

Scratches

Dirt

Scale

Holes

Fish Eyes

Oil

Bugs

Knots

Spots

Edge Cracks

Tearouts

Splices

Streaks

Blade Lines

Grit Lines

Scores

Minimum Detectable Defect:

Streaks and Scratches:
All Other Defect Types:

0.0001" (0.0025 mm)

0.00001 sq. mm

Maximum Detectable Defect:

Streaks and Scratches:
All Other Defect Types:

Unlimited
Unlimited

Maximum Web Speed:

To 10,000 ft/min

(3,048 m/min.)

Basis Weight Range:

Subject to Tests

Material Color Range:

Subject to Tests

Line Scan Cameras:

Type:
Lens Focal Length:
Field Of View (FOV):
Maximum Data Rate:
Pixel Resolution:

1024/2048
25/50 mm
0.1" (2.54 mm) Min.
up to 40 MHz
0.0001" (0.0025 mm) in CD

Streak Scan Cameras:

Type:
Lens Focal Length:
Field Of View (FOV):
Pixel Resolution:

Proprietary

25 mm
up to 10" CD (0.1" (25.4 cm)
0.0002" (0.005 mm)

Material Color Range:

Unlimited

Illumination:

Proprietary

Ambient Temperature:

40 to 160° F

(4 to 70° C)

Power:

120/220/240 VAC
50/60 Hz
Single Phase
3 -10 KW Dependent On Width
Alternative Power Requirements
Per Quotation

Specifications are subject to change without notice.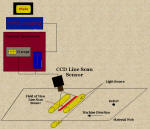 Maximize Profitability:
In today's highly competitive market place, increasing customer demands require comprehensive quality management and control. Sheet fed printing and packaging processes require higher end product of specialty coated and non-coated material that is demanding in terms of quality and delivery.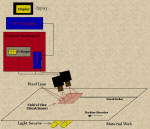 Production efficiency standards that facilitate continuous quality control initiatives and machine runability are essential key components to ensure a competitive edge in this very demanding segment of the market. Model 3600 OPTOMIZER® FCS Sheeter Inspection™ Technology will provide comprehensive quality management to ensure defective material is detected and classified diverting one or any number of successive defective sheets prior to stacking.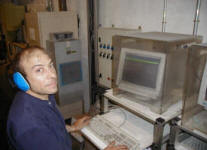 QAMS (Quality Assurance Management System) Toolpack™ will ensure the most important defects are data mined without time-intensive manual verification processes. Flexible process control initiatives and production recipes allow operational staff to easily setup from run to run quickly and efficiently to ensure all future slit and cut references facilitate the rejection of defective material allowing continuous flow of good material to the stacker. This technology is the most advanced state-of-the-art tool utilizing advanced sensor technology developed by us to date and will give your production the ability to meet quality initiatives instituted locally or through customer requirements. Production will be maintained efficiently, quality will increase, customer satisfaction and loyalty will increase providing a higher competitive positron and higher profits.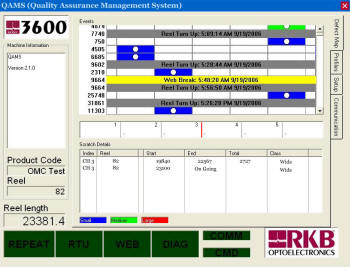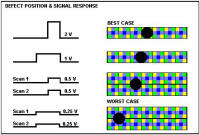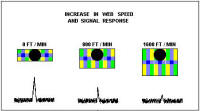 Detect and Index All Defects:
Since most defects require various lighting and detection methods, our engineers realized that single source sensing and lighting technologies would not work well and could not meet quality initiatives of a majority of web manufactures, especially in the coated material segment of the market. Dual sensing with flexible lighting techniques developed, and in many cases patented, by us provides the capabilities to detect and index all defects common in any web material manufacturing process. Using high speed digital linear and patented streak sensor technologies, our defect imaging capabilities are much clearer, more accurate and consistent which is unachievable with single source line scan, laser, phototransistor and matrix/video based technologies alone. This blend of both sensing technologies, patented defect signal and noise reduction processes, and our built in data mining catalogue provides precise and comprehensive web quality assessment and unprecedented performance.

| | | | |
| --- | --- | --- | --- |
| | | | |
| Dirt Type Defects | Hole Type Defects | Coating Scratches | Coating Streaks |

The Model 3600 OPTOMIZER® FCS Sheeter Inspection™ Technology is mounted prior to the cutter in-feed. Upon detection of a mission critical defect, a reject gate will be activated momentarily altering the flow of the "BAD" sheets to a reject bin collection system for further customer analysis. This ensures the skids of sheeted stock with value critical defects get stopped at the source before they are delivered to the customer. These quality initiatives will prevent and reduce smash blankets, press downtime, damage sensitive components or coating equipment and delivery delays costing you customers and market position.

100% Inspection Coverage:
Each Model 3600 OPTOMIZER® FCS Sheeter Inspection™ Technology solution is designed to span the entire web width for 100 percent inspection of the web material. Now you can guarantee that your products are fully qualified prior to subsequent processing or shipment to customers. Our (QAMS) Quality Assurance Management System Toolpack™ is included with each system to provide complete defect data collection, analysis, reporting, setup, and diagnostic capabilities. From unwind to stacking, your can be assured your product will be defect free.

Call SDT:
Call us today to discuss your complete machine vision imaging application and to learn more about the industry's most diverse line of machine vision web inspection, hole detection, splice detection and control products.